Meet Dr. Jeffrey Frerichs
Jeffrey Frerichs, DDS
Getting up every morning is easy for me, as I am doing what I love. I was born to be a dentist.
When I was in 7th grade, I carved a set of teeth out of a bar of Ivory soap. I was teased about it then, and am still teased about it today. Yet that was a pivotal moment in my life and set me on the path to dentistry.
I truly love everything about my profession: the artistry, the science, the diversity of my days, and — most of all — the people I get to know and help. I genuinely enjoy building connections with my patients, and consider them to be an extension of my family.
Each patient is unique. It is my responsibility to find ways of addressing their dental needs, and learn how to communicate in a manner that works for the person. I do my best to educate: Rather than telling a person they need a procedure, I show them what is wrong and explain the different treatment options.
By honestly and directly discussing what is going on, what needs to be done, and the options, I place the individual in control.
This is at the core of how I practice dentistry: I want each person to know I care, that I want to help, and that I want them to be informed, vested in, and comfortable with their dental care.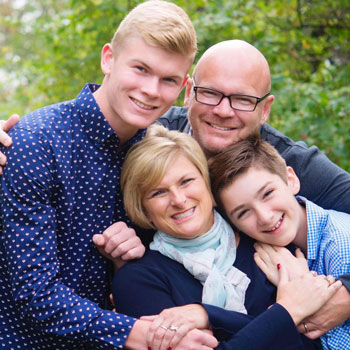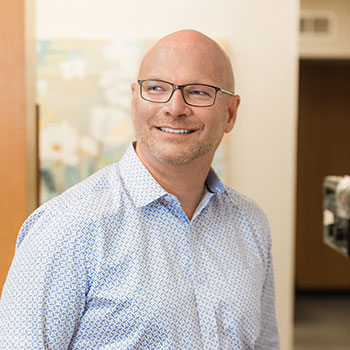 Education
In the more than 25 years since I finished dental school, the field has undergone remarkable advances. Today, we are able to do so many more things for our patients, using incredible technologies and techniques which improve diagnostics, the treatment experience, and results.
I stay current on the latest options through continuing professional education. By studying the newest information, I am able to select proven techniques that are effective, comfortable, and efficient. I only recommend care that I'd feel comfortable providing a family member.
In addition to being an active member of the Spear Study Club, I have completed courses with:
CEREC® doctors
Invisalign® doctors
Implant Pathways
Spear Educational Center
I am also a member of the American Dental Association, Illinois State Dental Society, and Illini District Dental Society.
In addition, I have volunteered many hours with the:
Schwann Special Education School
University of Illinois athletic teams
Mahomet-Seymour High School
Parkland College Dental Program
Beyond the Practice
I've lived in Champaign and the surrounding area for more than 25 years. My partner in life (and crime), Lisa, and I have been married for almost 20 years. We have two amazing teen boys, Matthew and Michael, who both help at the office. We also have two dogs: Scooby (the little one) and Bella (the GREAT Big One).
Family time is always my priority, whether we're enjoying adventures locally or traveling. I also like cars (old and new), and gardening.
Lisa and I have always been involved with our community: working to strengthen it for the betterment of all. A long-time activity is funding a teacher's project, one per month, to help alleviate a teacher's expenses. We also provide mouthguards to athletic teams, support many school activities, and are active in our church and Young Life.